Self-tracking timing belts
Self-tracking timing belt designed for very quiet and reduced vibration operation; excellent choice for horizontal drives.

Self-tracking timing belts
Sale price
$0.00 USD
Regular price
Product description
Download
Temperature resistant between -30°C and +130°C, depending on the application
Very low-noise
Antistatic in accordance with ISO 9563
Moderately oil resistant
Ozone resistant
Resistant to aging
Maintenance-free
Low vibration
Drive conditions and service variables in combination with time in operation can result in a loss of static conductivity. It is recommended that a conductivity check be added to drive preventive maintenance programs where belt static conductivity is a requirement.
Technical specifications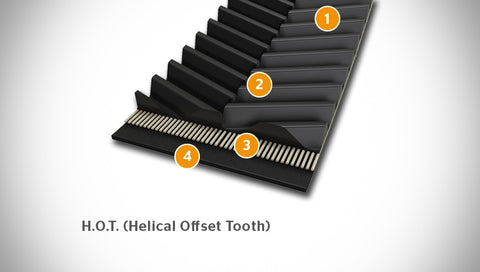 1. Specially treated fabric
2. Synthetic rubber teeth
3. Aramid tension member
4. Synthetic rubber backing
Dimensions
H.O.T. 8M
Profile
Width (mm)
Length range Lp

 

(mm)
Yellow
16
640 - 2400
White
32
640 - 2400
Purple
64
720 - 1600

H.O.T. 14M
Profile
Width (mm)
Length range Lp

 

(mm)
Blue
35
994 - 3920
Green
52,5
994 - 3920
Orange
70
1120 - 3920
Red
105
1260 - 3920