News
High temperature resistant silicone rubber synchronous belt
by Shopupup com on Aug 08, 2023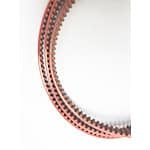 The material of high temperature resistant silicone rubber timing belt is usually made of red silicone rubber. Silicone timing belt has many advantages.
Silicone rubber synchronous belts can be used for a long time at a high temperature of 250-300 ° C, so they are usually used in occasions that require high temperature work, such as high temperature baking synchronous belts, etc.
The silicone rubber synchronous belt adopts an all-silicone integrated design as a whole, and is made of high-temperature-resistant high-strength aramid yarn and nylon elastic cloth, which can work at a high temperature of up to 300 degrees Celsius. It is resistant to oil and UV radiation and has better ozone resistance.
Features of silicone rubber timing belt
: 1. It has strong high temperature resistance:
2. The belt has no peculiar smell, is non-toxic to the human body, and can be used for high temperature food transportation;
3. It has excellent heat resistance, ozone resistance, and UV and chemical resistance.
4. Silicone timing belt has excellent electrical insulation performance.
Model of high temperature resistant silicone rubber timing belt :
1. Trapezoidal tooth silicone rubber timing belt: MXL, XL, L, H, XH, XXH
3.HTD silicone rubber timing belt: 3M, 5M, 8M, 14M,
4. STD silicone rubber Timing belt: S2M, S3M, S4.5, S5M, S8M, S14M
5.RPP silicone rubber timing belt: RPP3M, RPP5M, RPP8M, RPP14M